"You don't have to be a genius or a visionary or even a college graduate to be successful. You just need a framework and a dream."

Michael Dell
Introduction
Do you have a working business plan?
Your most important management tool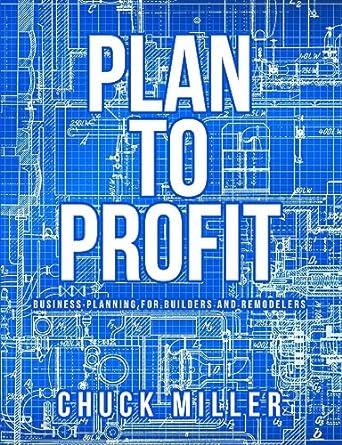 Your business plan is the most important management tool you have. It defines your strategy, tactics, and specific activities for execution. It also establishes dates and deadlines, budgets and cash flow. Chuck Miller Consulting's Plan To Profit: Creating A Working Business Plan live online course is based on Chuck Miller's book "Plan To Profit: Business Planning for Builders and Remodelers." The book provides a blueprint you can follow to develop a working business plan. Using the book as a blueprint, the course will walk you step by step through the process.
Success or Failure – What The Statistic Reveal
A survey of builder and remodeler members of the National Association of Home Builders revealed that fewer than 12 percent had a written business plan. Fewer than 15 percent had written operating budgets. Less than 18 percent had written mission statements. And almost 70 percent had no formal planning procedures.
According to the Small Business Development Center (SBDC), about 25% of small businesses in the construction industry fail their first year, 35% fail in their second year, and about 65% fail within their first five years – the second highest failure rate of all industries. Moreover, these rates are relatively consistent over time. Another key point., year-over-year economic factors do not have much of an impact on these small business failure rates.
Additionally, SBDC research reveals that nine out of ten business failures in the United States are caused by a lack of planning and general business management skills. However. a written business plan forces business owners to assess their business management knowledge and skills.
A 2010 Study "Should entrepreneurs plan or just storm the castle?" found that planning improved business performance. Additionally, that same study found that planning improved business performance and benefited existing companies more than it benefited startups.
Do you want to grow your business?
Another study showed that companies with written business plans grew 30% faster and were more successful than companies without a plan. And another study found that 71% of fast-growing companies – companies with over 92% growth in sales from one year to the next – have plans, create budgets, set sales goals, and document their marketing and sales strategies.
• Types of projects to pursue
• How you market your company
• People to hire, and
• Funding needed to succeed
Planning establishes your short-term, intermediate-term, and long-term goals. It outlines how you can achieve those goals. Long-range plans are broken down into manageable short-term goals that everyone on your team can identify and support. Your business plan will help you
• Focus strategy
• Manage milestones
• Manage metrics
• Assign and track responsibilities and performance, and
• Manage money using projections for sales, costs, expenses, and cash
Plan To Profit: Creating A Working Business Plan
Live Online Course
The Plan To Profit: Creating A Working Business Plan live online course is presented in 8 Sessions. The 8 Sessions are:
Session 1

– Introduction
Session 2

– Market Research and Analysis
Session 3

– Product and Service Plan and Marketing Plan
Session 4 – Operations Plan
Session 5

– Financial Forecasts and Budgets
Session 6

– Goals and Action Plans; Vision, Mission, Core Values; and Unique Selling Proposition; and Review Plan
Session 7

– Leadership Team And Staffing Plan; Company Overview: and Executive Summary
Session 8

– Review & Discuss Your Business Plans


Click here for detail on the live online course.

Return On Investment
Upon completion of the 8 week course, you will have a working business plan. In addition to the previously noted statistics on business success and growth, the return on your investment will begin to manifest itself almost immediately. Your written business plan will give you greater control by:
• Setting objectives and goals for the business and staff
• Facilitating and enhancing your decision making
• Driving improved results by providing a measuring stick for performance
• Helping you gain a distinctive competitive advantage
• Helping you anticipate and manage change
• Revealing future opportunities and concerns
• Stabilizing your financial performance
• Smoothing out growth
• Improving communication
• Developing team and team work that is focused on the business's future
• Allowing staff to ask and answer important questions within a business
• Helping you retain existing talent
• Helping you attract better talent
• Elevating commitment level
• Raising motivation and morale
• Aligning your organization – your people, processes, and resources with a clear, captivating, and wanted future position
• Facilitating your efforts to secure additional capital for your company. (Lenders and investors will probably request a business plan)
• Reducing your stress
• Helping you improve your Life Balance